BEHOLD! The Only Free
Sales Page Copy Template
You Will Ever Need!
Are you stuck on how to write an engaging and informative sales page for your offer? If copywriting is not your strength, coming up with the right words and where to put them can feel like quite the challenge. Stop overthinking it and grab our FREE sales page copy writing template. This template will help you get the brillant sales page that you are imagining in your mind, out of your head and onto the page. It will also assure that you do not forget to include the most important details that customers look for when deciding to make a purchase.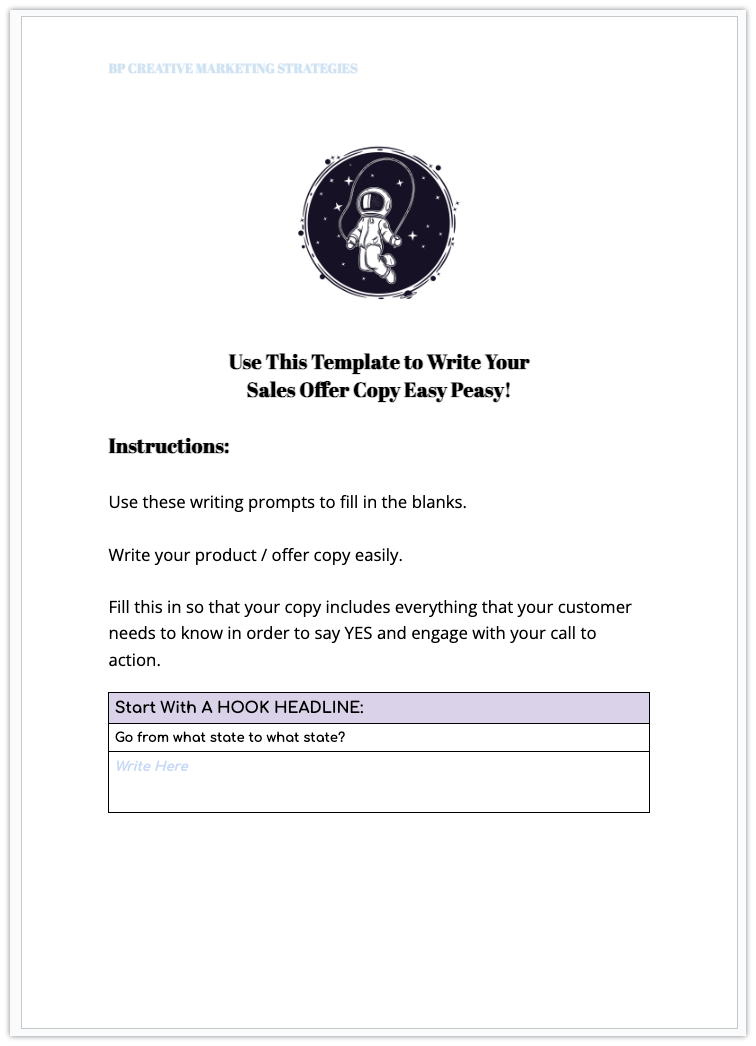 Sign up below to access instantly.
You will also get a video with instructions explaining how to use this template.
Signing up will require you to provide your details. You can decide how / if you would like to hear from us.
Who Made This Free Sales Page Copywriting Template?
Hi, my name is Brandie Michelle Peters and I am the BP in BP Creative Marketing Strategies. I started my career in online marketing in 2012 as a content writer for an SEO agency and was quickly promoted to their in-house marketing strategist. In 2016, I left that opportunity to launch the first incarnation of BP Creative Marketing Strategies. Since 2016 I have been providing high quality strategy development and ads management services for my clients. I also have a team of experienced contractors who help me develop, launch, and manage my client's online marketing campaigns. If you are looking for someone with experience to help you promote your business online you have landed at the right place. All of my relationships begin wth a conversation! Book a complimentary strategy call to get started.